Peace Engineers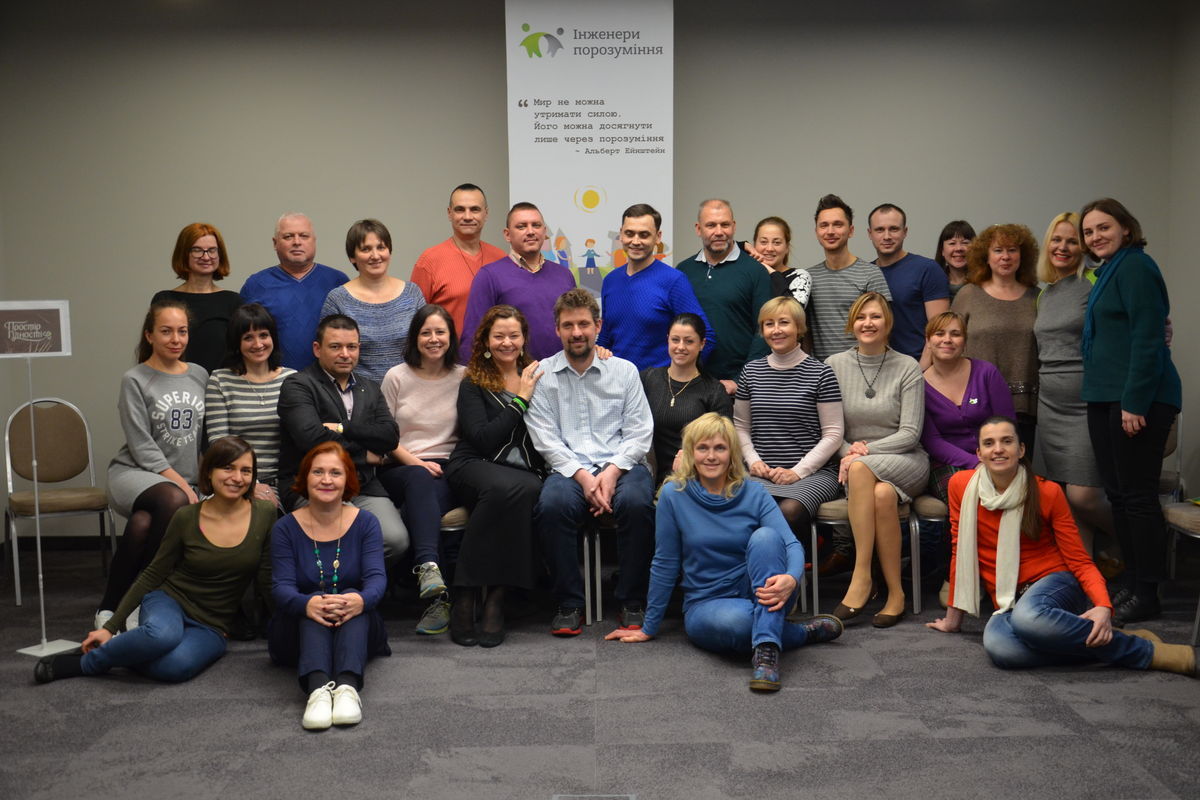 The Peace Engineers training programme was conceived in 2014, when it became obvious that the society had an urgent need for peaceful conflict resolution and reconciliation.

These last years, many people in Ukraine started to lose hope and trust in peace and healthy development of the country. We have faced the challenges that cannot disappear by themselves, but require professional assistance of the specialists who have gained and apply the skills and knowledge of peace building. Those people can show the way and lead others on the journey of reconciliation and sustainable peaceful development. We have called those people Peace Engineers.
The concept of such a School was designed by Carl Plesner and crystallized ias a program in the partnership between Carl Plesner, Olena Hantsyak-Kaskiv and Cinta Depondt, and was implemented in early 2017 in the project entitled " Peace Engineers School " with its headquarters in Kyiv.
The united international team of partners found a donor and invested a lot of effort and resources to create a physical and spiritual space for training and professional growth of the future Peace Engineers from 7 regions of Ukraine: Dnipropetrovsk, Donetsk, Zaporizhzhia, Kyiv, Luhansk, Odessa and Kharkiv oblasts.
Peace Engineers Shool gathered and trained the first group of students in 2017-2018 as part of the project "Culture of dialogue and constructive engagement in Ukraine" implemented by NGO Ukrainian centre for Nonviolent communication and reconciliation Dignity Space (together with Carl Plesner, reconciliation and social justice specialist) and PAX Netherlands (Fund Peace Movement PAX), under financial support of the Federal Ministry of Foreign Affairs of Germany (Auswärtiges Amt) .
The training had two tracks: an extended full-time one-year programme for future Peace Engineers and an intensive part-time 5-month programme for the people from state and public sectors who are working deescalating tension in the society. Both programmes took place in Kyiv, in the Peace Engineers House, and one of the crucial terms of study was living together in an integrated community of students, trainers and organizers.
Today we are proud to call our training programme a brand. It is legally protected and has its own logo. The graduates of the School are called Peace Engineers. We recommend them as specialists of dialogue for conflict resolution, and confirm their qualification by Green Certificates.
At the Peace Engineers web site, you can get to know the School graduates and have a look at their profiles. As new professionals join the community, we add their profiles to make sure the information is up to date.
We are happy that our results have been noticed by the people who trusted us in the very beginning. As the first part of the project was implemented successfully, we got further support from our partners and donors. The School will continue to run full-time one-year training programmes till October 1 2020 as part of a wider international project "Dialogue for conflict resolution"